---
Vörstellen
Reinhard ("Ron") F. Hahn: Faken meen ik, ik heff so 'n Slag Antenn, de mi bi elk eerst
Bemöten vermellen deit, mit wat för 'n Slag Minsch ik dat to doon heff. Mien Fründ Jürgen Hebold stell mi maal een wisse Hannelore Hinz vör. Mien Antenn vermell mi foorts, dat ik dat mit 'n besünnern Minsch to doon heff, 'n Minsch, de sik för us Spraak nich bloots mit Snackeree afrieten deit, man ook 'n Minsch, de noog Kraasch hett ook eernstere un nejere Saken to bringen un ook allerwägens as 'n vergnööglich Unikum vör Tüüg to kamen, üm neje Saken up "oldbacksche" Wies' to bringen, dat sülvst de stuursten Traditschonalisten vergäten doot, as begäng "Nä!" un "Buh!" to krakeeln. Un denn is se ook noch so 'n leven, hartlichen Minsch ...
Ik bün bi'n Iesernen Vörhang upwussen. Hanne wahn' nich wied af vun mi, man up de oosterne Siet, un dat was to de Tied 'n heel langen Weg. Nu hebbt wi enanner funnen, ofschoonst wi den groten Diek twüschen us hebbt.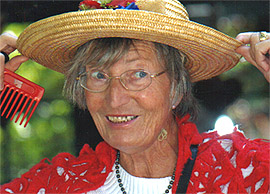 Aha! Treckfiedel-Hanne is al bi sik noch 'n

bäten uptofidummen.


Tjer, egentlich hebbt wi 't mit twee Hannes to doon. Schriever-Hanne schrifft 'n Barg Vertellen, Gedichten un Leder, mennig een ook eernst, mennig een as or in Böker ünner de Lüüd' kamen. Treckfiedel-Hanne, ja, de findst, 'nääm sik 'n Schoov Minschen findt, besünners 'nääm se tohuus is: in un üm Swerin, Mäkelnborg. Daar späält se ehr Treckfiedel un singt, un meist Hüün un Perdüün kinnt ehr. Af un an kümmt se ook mit as musikaalsch Ackumpanimang, wenn Schriever-Hanne an de Volkshoogschool "Platt"-Leksen gifft or in de een or annere Stääd' wat uut ehr Warken vörlist. An 'n Höörbook hebbt de beiden Damen ook tosamenwarkt.

Damen un Herrn, Deerns un Jungs, nu is mi dat 'n basig Pläseer Jo us Hannes vörtostellen. Denn kaamt maal na vörn, Hannings!
---
Treckfiedel-Hanne: Ick bün all dor. Nu kannt't losgahn. Oewer vörierst noch bäten up de Daglöhnerörgel äuben, denn mien Perser-Mischmasch-Katten Lause-Lucie un Hoppel-Max möten noch ehr Ja-Miau gäben. Allns moi. Nu koen'n mi hier sotauseggen von ein Welt-Bühn', grot un lütt Lüüd' hüren. Bücksenbäwern (Lampenfewer) verkrüppt sick all, na ja, kein Wunner bi de Frünn' hier.
Wi Frugenslüüd'

De Welt is ein Klock, hürt mal tau!
Wi Frugenslüüd' sünd de Unrauh.
Wi koen'n taugliek väl maken,
Kind söögen, knütten un kaaken.
Wi stahn bi de Firma den'n Mann.
De Scheff lött uns blot nich ran.


Text un Melodie: Hannelore Hinz
Musik brukt blot ein Sprak.Tauhürers hebben meint, up de Treckfiedel bün ick woll ein Vulkan. Ick fäuhl de Leeder un Dänz', griep ahn hentaukieken nah de Knöp un drück un treck de Handörgel. Un griep ick 'n verkihrten Knop, segg ick "dat is live", un all' grienen. Weit gor nich, worüm dat so is. Künnt 't sien, dat mi ein Drufappel-Engel as Pät ein Treckfiedel in de Weig' leggt hett? Dank di hüt noch.
FKK

De Sommer is dor, hei Hurra!
Nu holl'n wi dat mit FKK.
Fix dal Ti-Schört un Bücksen!
Nu sünd wi Waternixen.
Wi toben in Sünn un in't Natt,
man abends, denn gläuht uns dat Gatt.


Text un Melodie: Hannelore Hinz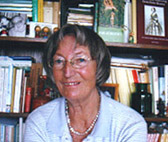 För Besäukers ut de wiede Welt treck ick de Quetschkommod' bi Damper-Touren up unsen Sweriner See. Heff nich blot alldags, nee, wenn't sien möt, ok Hillig Abend för Minschen in Pläg- un Krankenhüüs' Leeder treckfiedelt, so as "Hoch kloppt dat Hart". Un hoch sleit ümmer mien Hart, wenn ick mit Kinner tau Treckfiedelmusik singen un danzen kann un sei nahstens fragen: "Wennihr kümmst du wedder?"
Kein Bang' nich! Ick kam noch eins.
Up mien Datsche

Ick reis' nich nah Mailand un Rom,
dröm sinnig hier ünner den'n Bom,
Mak Urlauw up mien Datsche
mank Blaumen mit Fleigenklatsche.
De Immensang' klingt schön för mi
as niemodsche Hit-Melodie.


Text un Melodie: Hannelore Hinz
Schriever-Hanne: Schriewen is as ein Huus bugen, man de Finster nich vergäten. Mien ierst Hüsing wier ein Katen mit 'n grot Finster, un binnen ein Dannenbom mit väl Lichters. 't wier Wihnachten, un ick allein as jung' Diern.

As ein Revolutschon drew ut deipen Harten mien Wihnachtsfantasie, kein trurig Riemel, Leiw' – wat wäst, Hapen – wat kümmt. Dannenbom-Licht schenkte mi väl Frünn'; noch hüt. Euterpe fläute mi de Lyrik tau, un bi Schriewer Ann-Charlott Settgast lihrte ick dat Lopen för Riemels un Vertellers, later druckt in dat Loegenblatt un in Anthologien. Wull ümmer höger rut. Keek gliek nah de Wenn' oewer den'n Töllerrand un fünn' gaude Frünn', noch mihr lihren. Schrew väle Oorten von Lyrik (Rondo, Sonett, Sonettenkring, Haiku usw.), oewer ein Riemel-Korsett künn Sprak sneren, also ok frie' Rhythmen. Schrew tau männig Gedichten ein Melodie un de Kompenisten künn' dat noch väl bäter. As ein Imm mücht' ick noch gaude Dracht in den'n Immenrump dragen, un ut den'n Katen ward womoeglich ein smucket Huus, oewer mit väl Finster, un ein Licht sall nienich utgahn.
---