Salland Low Saxon of Lutten, Northeastern Overijssel, Netherlands
---
Listen to this translation narrated with native pronunciation:
Translation and Narration: Dick van Faassen
Location: Borne, Overijssel, Netherlands
Language information: [Click]

---

[Dutch Spelling] [German Spelling]
---
't Winterkoninkien
't Winterkoninkien had zien nust ebouwd in de wagenschure. Op 'n keer waren allebeide de olden uut-evleugen — ze wollen wat eten veur de jonkies halen — en ze hadden heur kleinties helemoale alleenig eloaten.
Noa 'n tiedlang kump de va weer bi'j huus. "Wat is hier gebeurd?" zeg e, "Wie hef oe wat edoane, kinder? Ie bint joa helemoale verschrikt?"
"Och, Va," zegt ze, "D'r kwamp hier net zo'n grote bullebak veurbi'j. Die zag d'r zo geméen en grouwelik uut. Hij gloepten mit zien grote ogen zo ons nussien binnen. En doar binne wi'j zo benauwd van ewörden."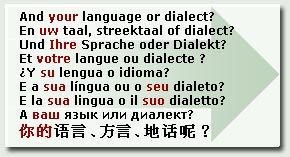 "Zo," zeg de va. "Woar is e hen egoane?"

"Nou," zegt ze, "Hi'j is die kaante uut egoane."

"Wach eempies," zeg de va, "Ik goa d'r drekt achteran. Stille maar, kinder! Ik zal 'm wel kriegen ..."

En hij vlög d'r achteran.

As e de hoek umme kump is 't een leeuw die doar löp.

Maar 't winterkoninkien is niet bange uut-evallen. Hij giet bi'j de leeuw op de rugge zitten en begunt 'm uut te schelden. "Wat he'j bi'j mi'j bi'j 't nust te zuuken, ieje?!" zeg e hellig, "en mien jonkies benauwd te maken?!"

De leeuw trekt 'm d'r niks van an en löp gewoon wieder.

Nou begunt dat kleine krummeltien nog helliger an te goan. "Ie hebt doar helemoale niks te zuuken, vertel ik oe! En a'j nog es weer dorft te kommen," zeg e, "dan zu'j 't wel marken! Ik doe 't niet grage" — en hij hold zien iene pootien in de lucht — "mar aanders mu'k oe de rugge deur de midden trappen!"

Doarnoa vleug e weer noar zien nust hen.

"Zo, kinder," zeg e, "Die he'k dat mooi of-eleerd. Die kump hier nooit weer!