Lowlands-L: How it all started
by Reinhard F. Hahn, Founder, Administrator & Chief Editor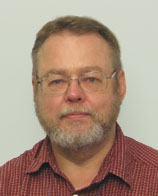 hen Henk Wolf and I first developed the idea of starting Lowlands-L (at the beginning of 1995), among our main considerations were (1) to deal with the Ingveonic (North Sea Germanic) or part-Ingveonic Germanic languages, and (2) to focus on the "Lowlands" as the homeland and source of a specific group or of a specific continuum of linguistic and cultural varieties. Furthermore, we had in mind allowing Low Saxon ("Low German," most of whose speakers live in Northern Germany) to be featured in its own right, not as the customarily negligible appendage to and overshadowed by "High" German, but to focus on Low Saxon within the context of its Low Franconian sister languages Dutch (Flemish), Frisian, Afrikaans, etc.

Already then there were several online discussion groups devoted to German as a language and to Germanic as a language group, also an excellent one devoted to Yiddish (Mendele), a descendant of German. Furthermore, there were groups dedicated to Dutch.
However, there were none for Low Saxon and for other Lowlands language varieties, and we wanted to make ours language-group-specific, not language-specific, to remind speakers and learners how closely related these varieties are, in fact mutually intelligible to varying degrees.

Later on the membership voted in favor of adding Limburgish, even though Limburgish actually marks the transitional area between the Lowlands languages and German (proper).

Cultural topics had been included right from the beginning. As the group matured, it included numerous other aspects that could not be separated from language and culture, such as history and society, as well as relevant political developments. Already early in the development of Lowlands-L, members added their specific areas of interest and research to the mix, such as architecture, food, songs, botany and mythology.

Although the forum consistently focuses on its specific area of interest it has never done so in a vacuum. Right from the start, we have been presenting to each other analogies and comparisons with other areas, for instance when arguing that a feature is more widely spread or is even universal rather than specific to our focus. There has always been keen interest in contacts between the Lowlands and the languages and cultures of other groups. This includes not only neighbors in Europe and minorities in Lowlands areas but also worldwide contacts made by way of trade and colonization.

Minority language issues have always ranked very highly among discussion topics. However, Lowlands-L has never been dominated by these issues. Our area of interest happens to include both some of the world's smallest, most endangered language varieties (such as the Frisian varieties of Germany) and English, the world's currently most dominant language, often perceived as a threat to other languages. This has been having a balancing effect.


By and large, Lowlands-L has remained faithful to its initial purposes and goals, and quite a few of our current members have been faithful to Lowlands-L since its beginning or early days. The atmosphere has not significantly changed either; it is still dominated by an air of respect and amity, even friendship, and by the common thread: respect for all linguistic and cultural varieties, be they Lowlands-specific or not. We have been managing to cherish our common heritage while celebrating our differences and avoiding the pitfalls of chauvinism and exclusiveness. We have always welcomed anyone who has a genuine interest in our area as well as in learning and sharing. All of our members are Lowlanders, irrespective of their linguistic, ethnic, geographic, educational or professional backgrounds.

Hold fast!