Lorraine Frankish
Dialect of Stiring-Wendel, France, close to Saarbrücken, Germany
---
Listen?

Translation: Bernard Paulus
Location: Stiring-Wendel (Stieringen-Wendel), Lorraine (Lothringen), France
Facilitation: Jean-Luc Detilleux, Lidje/Liège/Luik/Lüttich, Wallonia (Belgium)
Language information: Lorraine Frankish is a Western Central German dialect group within a continuum between Rhine Frankish and Moselle Frankish. It is closely related to Saarland Frankish, also to Luxembourgish. Lorraine Frankish is used along today's German border in the Lorraine (Lothringen) area of Northeastern France. On a local level it tends to be referred to merely as Platt (also written Plàtt or Blòdd), even in French. Lorraine Frankish ought not be confused with the Lorraine language, a Romance language of the langue d'oïl type. [Click here for more.]

---
De Zaunkeenisch
De Zaunkeenisch hat sei Nescht im Wònnschuppe gehat. Emòl ware die Alde ausgefloh. Die hòn, fir die Junge, ebes se fietere holle wolle, un hòn die Kläne gònz ellän gelòss.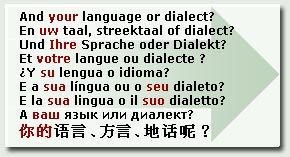 E bissje später is de Vadder wieder hem komm.

"Was is'n passiert," fròt da, "Kinner? Hat eich dònn jemònd was ongedòn? Ihr sinn jò so aus als hät eich jemònd Òngscht gemach!"

"Ei, Babbaa!" sonn se, "Grad war e großes, kommisches Ding dò; 's hat bees un schrecklisch ausgesinn! Es hat mit sei große Aue in's Nescht geguckt. Do hòn ma richtisch Òngscht gritt."

"Aha!" sat de Alde. "Ei wo ises dòn hingelaaf?" hat de Alde gefroot.

"'s is dò hin gelaaf."

"Waaden!" saat de Alde, "Dem zei ich's. Beruischen eich!" Un flieht 'm hinnerher.

Wie er um die Eck kommt, sieht er e Leeb laafe.

De Zaunkeenisch hat awer kän Òngscht, huggt sich of 'm Leeb sei Rigge un fòngt on se schille: "Was hascht dònn du in meim Haus ze suche un mei kläne Kinner zu erschrecke?"

De Leeb kimmert sich gar nit drumm un geht änfach weider.

Do schellt de Alde noch meh: "Nix haschde bei mir verlor! Un wenschde wieder kommscht, dònn wierschde was erlewe! Ich mach's nit gär," sat a un hebt e Bän, "Awer ich kinnt dei Rigge mit dem Bän zerschmettre!"

Dònn flieht a wieder in sei Nescht zerick.

"So, Kinner," sat a dònn, "Dem hòn ich's awer gen. Der wird sich nemeh bligge lòsse."