---
To'n Vörstellen - Introduction
Af un an kümmt een uut egene Stücken bi us an, de keen Maat vun Lowlands-L un liekers mit Hart un Seel bi düt Projekt mitmaakt. So een is Gerhard Willers, de in Ollenborg wahnt un för us de lütte Fabel up Kölsch, up Noordollenborgsch, up Willemshavener Missingsch un up Saterfreessch œversett hett. Gerd, as wi em nömen dröfft, is 'n Spraken-Fan, so as mennig een mank us dat is. Ünnen stellt he sik as "featured guest" vör. Wi dankt Di, Gerd, ook Dien Fro Renate, Dien Dochter Heike un Dien Swegersœhn Axel, de bi de Saak mithulpen hebbt. Wieder ünnen stellt Gerd sik nu sülven vör.
Every now and then someone comes along who goes all out in volunteering for participation in our anniversary project without being a member of Lowlands-L. One such person is Gerhard Willers of Oldenburg in Lower Saxony, Germany. Gerd, as we may call him, translated the fable into Cologne Ripuarian, North Oldenburg Low Saxon, Wilhelmshaven Missingsch and Sater Frisian. Thanks a lot, Gerd, also your wife Renate, your daughter Heike and your son-in-law Axel who helped you with the project.
Below, Gerd introduced himself in Low Saxon. He explains that he is 72 years of age, is married and has two daughters who are still living in the Rhineland where he and his wife lived for quite a few years until Gerd's homesickness caused them to move back to his native Northern Germany. His parents were native Low Saxon speakers but didn't teach it to him since at the time it was common to believe that knowing Low Saxon would spoil children's "High" German. Gerd eventually learned it from his aunt and uncle in Oldenburg where he had been sent to be safe from the bombing of the final years of World War II. This may have helped him in excelling in English classes back in his native Wilhelmshaven. He couldn't get enough of foreign language, studying French and Esperanto. Later he joined the military and then rubbed shoulders with American service personnel in Bavaria and then attended English-only military school to study communication. After his service he worked for thirty years as a civilian foreign language assistant for the language service of the German Federal Armed Forces translating texts between English and German.
Meanwhile retired, Gerd has time to devote to his eclectic language hobby, a little more time than he would like since he had to give up his beloved hiking due to Parkinson's disease. He considers himself able to carry conversations in French, Spanish, Portuguese, Italian, Dutch, Danish and Sater Frisian, and he believes that his trilingual start in life (German, Missingsch and Low Saxon) helped him to linguistically excel later in life.
Reinhard ("Ron") F. Hahn
---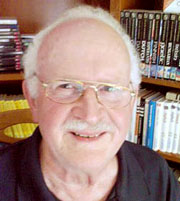 Ek bün 72 Jahr oold, verheiraat mit miene Fro Renate un heff 2 uutwussene Döchter, Heike un Anke, de in't Rheinland bläven sünd. Ek schrief "bläven sünd", wiel ook miene Fro un ek dar van 1963 bit 1970 (Mechernich/Eifel) un denn woller van 1976 bit 1994 (Köln) wahnt hebbt. Aber mien Lengen (= Sehnsucht) na Norddüütschland wurr ümmer grötter un grötter, un na mien Pensioneern holl mie dar nix mehr. Ek bün in Rüstringen up de Welt kamen, dat weer van 1911 bit 1937 dat ollenborgsche Deel un Wüllemshaben dat preusische Deel van de Jadestadt, de sik 1937 unner den Namen "Wilhelmshaven" woller vereent hebbt. Den Naam "Rüstringen " harrn de tostänndigen Stadtbeamten van den olen freeschen Gau Rüstringen övernamen. In Wüllemshaben bün ik denn ook eersmal upwussen.
De Mudderspraak van mien Vadder un miene Mudder weer ollenborger Platt. Aber se weern bang, dat mie dat Platt mien Hoochdüütsch verdarven kunn, un darum snackden se bloot Hoochdüütsch mit mie. As dat in de lesden Kriegsjahrn mit dat Bombardemang van Wüllemshaben ümmer slimmer wurr, dar hett miene Mudder mie na mien Unkel un Tante na Ollenborg schickt. Dar fullen so good as kiene Bommen. Mien Vadder weer in de Tied in'n Krieg in Frankriek un miene Mudder muss in'ne Rüstungsinnustrie arbeiden. Dusse Unkel un Tante in Ollenborg snackden ook Hoochdüütsch mit mie, aber namiddags na de School un bisunners sonndags weer ek bi een annern Unkel un Tante in Ohmstede, een ländliken Deel van Ollenborg. Dar harrn se een lüttjen Buurnhof, un dar heff ek dan bi't Spälen mit miene Vettern unannere Buurnkinner perfekt Platt leert. Dar weer ek ungefähr 7 bit 9 Jahr oold. As de Krieg to Enn weer, wahnde ek woller in Wüllemshaben un gung na de Volksschool un later denn na de Middelschool. Dar weer ek, villicht wegen mien Plattdüütsch, mit noch een annern Schoolkameraden een van de Klassenbesten in engelsch. Wie leerden ook noch franzöösch, aber dat weer freewillich. För de meisten Schöler weer dat al meer as genog, aber för mie nich. Abends heff ek in de Tied in de VHS ook noch spaansch leert. Un in'n Sülfsstudium heff ek mie denn ook noch Esperanto bibrocht un weer denn ook Maat in den Düütschen Esperanto-Bund un darmit ook Maat in den Weltesperanto-Bund. Aber ook in Geografie weer ek bannig good. Miene Klassenkameraden nöömden mie "Papst", aber nich weil ek so fraam weer oder weil ek so wöördefull dar langs gung, nee, weil ek so allwissend weer, so sään se, aber se harrn wol allwissend mit unfehlbar verwesselt. Man mutt nich vergäten, wie weern bald all Prostestanten.
Van 1956 bit 1959 weer ek Suldaat bi de nee-e düütsche Bundswehr. Ek wull wegen mien good Engelsch geern in een internationalen NATO-Stab, aber dat het nich klappt. Darför schickden se mie mit ganz wenige düütsche Suldaten to den damals rein amerikanischen Flegerhorst Landsberg/Oberbayern. Wie schullen de Amerikaners so bilütschen aflösen. De Deenst- un ook de Umgangsspraak weer engelsch. De Militärschool för dat Fack "Communications" (düütsch: "Fernmelde") weer in Kaufbeuren/Allgäu/Bayern. De Unnerricht, de Schoolmesters, de Fackböker un Vöörschriften weern in engelsch. Na düsse Tiled weer ek noch in Fassberg/Ostheide/Neddersassen. Na miene Suldatentied wahnde ek woller in Wüllemshaben bi miene Mudder. Mien Vadder weer kort nadeem he uut de Kriegsgefangenschup ruut, un woller to Huus weer, 1947 sturven, un miene Mudder kunn mien Uutbillen as Översätter up so'ne van'n Staat anerkante Dolmetscherschool nich betalen, un darum heff ek so'ne private Sprakenschool besöcht. Dar sünd wie in engelsch un spaansch uutbildt wurrn. Darmit heff ek mie driest as Zivilangestellte bi den Sprakendeenst van de Bundswehr meldt . Weil mien Engelsch för dat Översetten van technische un wetensschaplike Texte nich good genooch weer, druff ek mie bloot Frömdsprakenassistent nömen. In düssen Sprakendeenst heff ek aber ook een theoretisch Uutbillen as Lexikograaf un Sprakenschoolmester för engelsch mitmaakt. För düssen Deenst heff ek över 30 Jahr arbeidt. In de Tied hett mie de düütsche Staat na Ollenborg, Mannheim, Mechernich/Eeifel, Rendsborg/Sleswig-Hosteen, Kalkar/Nedderrhien un Köln schickt.
Nu bün ek Rentner, un heff vääl Tied för miene Hobbies, dat sünd: Spraken (Minnerheiten- un Regionaalspraken in Europa) un dat Sammeln van Spraakböker un Spraakkurse. Ek heff ungefähr 40 darvan, un van de lütschen "Kauderwelsch"-Böker, van den Reise Know-How Verlag heff ek sogaar 90 Bände, darunner sockse "Perlen" as Sioux, Lakota, Aztekisch (Nahuatl), Tamaschek (Tuarek), Kapverdisch (Kiriolu), un so wieter. Un denn heff ek noch 35 Bibeln in 25 Spraken. Annere Hobbies sünd Geografie, Völkerkunne, aber ook Sauna, Radturen maken un Vagels beobachten. Mien leefst Hobbie buten an de Luft weer (siet ungefähr 1947) Wannern, aber dat is nu siet 2006 wegen Parkinson uut. Dat deit mie bannig, bannig leed, aber darför kann ek jo noch good radföhrn, un dar bün ek Gott bannig dankbaar för!
PS. Näven Düütsch, Neddersassisch, Wülllemshaben Missingsch kann oder kunn ek 'ne Konversaschoon över eenfache Themen in düsse Spraken föhrn: franzöösch, spaansch, portugiesch, italieensch, hollandsch, deensch, saterfreesch. Wenn ek segg … "kunn ek föhrn", denn heet dat nich, dat ek darvan allens vergäten heff, man, dat ek bloot 'n paar Wäken bruuk, um woller rintokamen. In katalaansch un rumeensch bün ek nich ganz so wiet, aber dar heff ek en goden Grundwoortschatz. Wenn ek nu noch de Spraken uptellen do, wor ek mal so'n bäten rinkäken (oder "rinschnuppert") heff, as dat in "needüütsch" so fein heet, denn kaamt dar noch so ungefähr 18 Spraken darto, sodat dat ungefähr 32 Spraken gifft, worvan ek seggen kann, dat ek darmit mal mehr oder mal minner "Kontakt" mit harrt heff, dat heet so bit Lektion 3 oder 5 in een Kurs oder Lehrbook. Ganz anners as use grote Sprakenfreak Ron antwoort ek geern up de Fraag "Wovääl Spraken snackt Se denn?" Aber bi mie is dat jo ook wat anners. Ek bün jo nich in eerste Stee een Linguist, man een Sammler. Ek wull mien Läven lang polyglott wään, wenn ook bloot "auf niedrigem Niveau" as dat bi de Medien un Behörden so nöömt ward. Un nu draff ek dat. Fröher druff ek dat nich, anners harrn miene Basen bi de Bundswehr seggt: "Nu höört Se mal up mit Ehre Verzettellee un konzentreert sik läver up dat technische Engelsch. Dar mööt Se noch 'ne Masse dartolehrn." Dat ek so good Spraken lehrn kann, föhr ek up miene fröhe Tweesprachigkeit, düütsch, neddersassisch terüüg, oder schull ek seggen "Dreesprachigkeit, düütsch, neddersassisch, Missingsch", leve Ron, leve Leeglands-Lü?
---
Gerd's translations: Cologne Ripuarian, Oldenburg Low Saxon, Wilhelmshaven Missingsch, Sater Frisian