Mennonite Low Saxon, Dialect of Molochna
---
Listen?

Translator: Eldo Neufeld, Vancouver, British Columbia (Canada)
Location: Molochna Colony (Ukraine), now in various parts of the world, mostly in the Americas
Language Information: [Click]

---
De Tuunkjeenig
De Tuunkjeenig haft sien Nast en de Koaschend jehaut. Nu weare de Ellre eenmol beid vom Nast ruutjefloage – se haude fe' äare Junge waut toom äte hole wullt – un soo haude se de Junge gaunz auleen em Nast jelote.

No 'ne Tietlang kjemmt de Oola wada nohuus.

"Waut es hia passeat?" fraigt he. "Wea haft ju Schod jedone, Kjinja? Ji send je gaunz veängstigt!"

"Och, Voda," saije se, "hia kaum soon groota Beesa vebi. Dee sag soo schraikjlig un soo fertalig rietend uut. Dee glotzt met siene groote Uage en onset Nast 'enenn. Doaderch hab wi ons soo jegruult."

"Soo," saigt de Oola, "wua es he dann nu han jegone?"

"Jo," saije de Junge, "he es doa unje velängst jegone."

"Wacht't!" saigt de Oola, "däm go ekj hinjaraun – bliewt mau bloos ruuig, Kjinja – däm woa ekj kjriee." Doamet fliggt he däm Beesa hinjaraun.

Aus he rom de Aikj kjemmt, doa es de Leewe, dee doa velängst jeit. De Tuunkjeenig haft kjeene Angst. He sat sikj opp'em Leewe sien Rigje un fangt aun to schempe. "Waut hast du bi mien Huus to doone," saigt he, "un miene Kjinja to vefeare?"

De Leewe kjemmat sikj goanich doarom un jeit sien Waig ruuig wieda.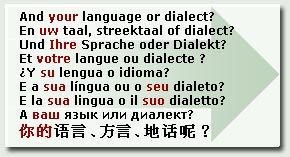 Dann schempt de kjleena Stoakopp noch fuchtja! "Du hast bi mien Huus nuscht veloare, well ekj di saije! Wann du nochmol kjemmst," saigt he, "dann woascht du seene! Ekj doo daut nich jearn," saigt he, un doamet häwt he een Been huach, "sonst vekjwatsche ekj di fuats dien Rigje!"

Doaropp fliggt he wada trigj no sien Nast. "Soo, Kjinja," saigt he, "däm hab ekj waut jeleat; dee kjemmt nich wada!"