Bremer Missingsch
German on Low Saxon Substrata
Dialect of Bremen
---
Listen to this translation narrated with native pronunciation:
Translation and Narration: Utz H. Woltmann
Location: Bremen (Germany)
Language information: [Click]

---

[Less Phonetic] [More Phonetic]
[Hamburg Missingsch] [Ruhr German] [Wilhelmshaven Missingsch]
---
Der Zaunkönig
Der Zaunkönig hadde 'n Ness innen Wagenschuppen. Mal war'n die Alden alle beide weggeflogen. Sie hadden was für ihre Dschungen zu füddern holen wollen, un sie hadden die Lüttsch'n gans alleine gelassen.
'n büschen später kam der Alde wieder nach Haus'.
"Was'n hier passiert?" sacht er. "Wer hat euch was getan, Kinners? Ihr seid tscha gans verschüchtert!"
"Ach, Vadder," sag'n sie, "hier kam eben so'n großen Buhmann vorbei. Der sah gans bös' un gräsich aus! Der hat mit seinen großen Augen in unser Ness reingeglotzt. Da haben wir uns so verjagt!"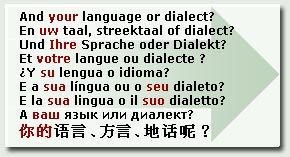 "So," sagt der Alde, "Wo isser'n abgeblieben?"

"Scha," sagen sie, "da is er runner."

"Haltstop!" sacht der Alde, "Den will ich nach. Seit ihr man gans ruhig, Kinners! Den will ich kriegen." Da flog er hinterher.

Wie er umme Ecke kommt, da isses der Löwe, der da lang geht.

Der Zaunkönig is aber nich bange. Er setz sich auf'n Löwen sein Rück'n rauf und fängt das Schimpfen an. "Was hassu bei mein Haus zu suchen," sacht er, "un meine lüttschen Kinner zu verjagen?!"

Der Löwe kümmert sich da gar nich um un geht weiter.

Da schimpft er noch doller, der lüttsche Kerl. "Du hass da gar nix verloren, sag ich dir! Un wennu wiederkommen tus," sagt er, "denn kannscha mal was erleben! Ich mach's scha gar nich tun," sagt er'n – un denn hadder sein eines Bein hochgehob'n –, "sons tret ich dir gleich'n Rücken ein!"

Danach fliegt er wieder zu sein Nest hin.

"So, Kinners," sacht er, "den hab' ich's aber gezeigt. Der kommt nich wieder."