Gariep-Afrikaans / Griekwa-Afrikaans
Afrikaans (Garib/Griqua/Orange River Variety)
---
Listen to this translation narrated with near-native pronunciation:
Translation and Narration: Elsie Zinsser
Location: Johannesburg, Gauteng (South Africa)
Language information: [Click]

---
Die Bostinktinkie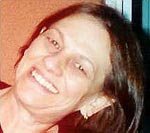 Die tinktinkie het hom se nes innie vjelt gehat. Eenag wassie ma en pa altwie yttie nes yt, om virrie kjenners kos te ga loep soek, en hille heddie kjenners helemal alleen innie nes gelos.
Na 'n tydjie kommie pa wee trig.
"Wat heddan hieso gebeer? vra hy. "Wie't ver jille kwaat aangedoen, kjenners? Jille lyk helemal veskrik!"
"Ag, Papa," sê hille, "daat nou-nou 'n tamaaie bangmaakding hie vebygekomloep. Hyt so wreet en lielik gelyk! Hyt met sy groot oge innie nes ingestaar en ons baie bang gemaak!"
"O ja," sê die papa, "en waahien is hy nou?"
"Wel," sê hille, "hys sountoe."
"Wag nou maa," sê Papa tinktinkie, "ek gaa hom agtenasit. Wies jille maa stil, ek sal vi hom kry."
En so vlie hy die gedierte agtena.
Toe hy om die draai kom, is dit maanhaar wat da loep. Maa tinktinkie is g'niks bangie. Hy sit op maanhaar se rig en beginne hom te skel. "Wat kom loep soek jy by my se nes," vra hy, "en maak my se kjenners bang?!"
Maanhaar is niks gepla nie, en loep doodluiters aan.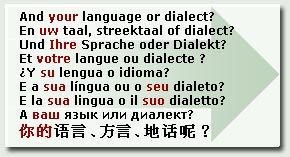 Nou gaan die opgewerkte mannetjie eers tekere! "Ek sê vi jou! Jy het daa niks veloor nie! En as jy trigkom," sê hy, "dan sal jy sien! Ek wil nie graag nie," en hy tel sy een been op, "maa ek breek jou se rig morsaf!"

Daarop vlie hy trig na hom se nes.

"So ja, kjenners," sê hy, "dit sal hom leer. Hy sal wragtag nie weer trigkom nie."