Crimean Turkic (Crimean Tatar)
---
Listen to this translation narrated with native pronunciation:
Translation: Fikret Soysal
Facilitation: Mike Szelog
Language information: [Click]

---

[Turkish-based spelling] [General Roman Spelling] [Cyrillic]
---
Şalıkuşu
Vaktın birevunde şalıkuşunun cuvası damın bır koşesinde eken. Bır kun anne men ata şalıkuşu ballarına aş toplamaga uşup ketip kışkene ballarnı öz başlarına taşlaganlar.
Taa sora ata şalıkuşu üvge kaytıp kelgende, "Ne boldu mında şu? Sizge kım zarar berdi, ballar? Bek korkkasınız da" dep aytkan.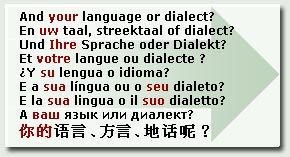 "Ay, ata" degenler, "bıraz evvel balaban bır canavar keldı. Bek yaman korune edı! Kozlerinı akıytıp cuvamızka karadı. Bız de bek korktuk."

"Demek olay!" degen ata şalıkuşu, "Kayda kettı şimdı?"

"Anau anyaka agaşlarka kettı."

"Sız bi yerde bekleniz" dep aytkan ata şalıkuşu, "men artından ketemen. Ende merak etmeniz, ballar! Onu tutacakman." degen son uşup canavarnın izine tüşken.

Agaşlarga barıp colun aylangan cerge kelkende cürgen aslannı korgen.

Ama eş korkmagan. Aslanın üstüne konup kokurgen. "Neşın menım üvüme kelıp ballarım korkuttun?!"

Aslan tuymazdan kelıp cürebergen.

Mınau şalıkuşunu taa da bır kızdırgan. "Anyakta eş bır işin yok edı. Saa aytaman, bır taa kaytıp kelsen o vakıt korursun kunun. Mınaunu eş yasamak istemeymen ama" dep bir ayagını avaya kaldırıp, "belini ayagımman kırakoyarman."

Taa sora da uşup cuvasına kaytkan.

"Ballar," degen, "anau eripin dersini berdim. Bır taa kelmege korkar."