Sardinian
Campidanese Variety
---
Listen?

Translator: Lone Elisabeth Olesen and Ivo Murgia
Location: Copenhagen (Denmark), and Pirri, Sardinia (Italy)
Language information: [Click]
---
Su cherri
Su cherri iat fatu su niu in su garagiu. Una borta is mannus si fiant bolaus a si fai unu giru – boliant agatai cosa de papai po is piticheddus – e ddus iant lassaus a solus.
Nci passat unu pagheddu de tempus e babbu cherri furriat a domu.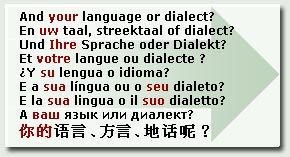 "It'est sutzediu innoi?" narat. "Chini s'at fatu mali, fillus mius? Totu atzicaus seis!"

"Ohi, babu," narant is piticheddus, "est passau unu momoti mannu – uh, cumenti fiat aresti e orrorosu! At castiau in su niu nostru cun is ogus suus mannus. Gei s'at spramau pagu!"

"Apu cumprendiu," narat babbu cherri. "E aundi si nd'est andau?"

"Beh," narant is piticheddus, "a ingunis."

"Abeta!" narat su babbu, "dd'apu a sodigai deu, no si preocupeis, gei dd'apu a cassai." Nau custu, si bolat a ddu circai.

Girau chi iat in sa cantonada de su garagiu bit a su lioni passillendi.

Ma su cherri no ddu timit. Calat a pitzu de sa schina de su lioni e cumentzat a ddi nai cosa. "Ita fiast circhendi in domu mia," narat, "fendi atzicai a fillus mius?"

A su lioni perou no ndi importat nudda de su cherri. Issu sighit su caminu suu.

Po cussu su cherri ddu certat prus a forti: "No nci fais nudda in domu mia, ti ddu nau deu! E chi torras," narat, "as a benni a biri ita ti sutzedit! No ddu bollu fai, diaderus," narat e artziat una farranchedda: "Ma t'apu a segai sa schina illuegus, t'apu!"

Nau custu, furriat a su niu.

"Andat beni, fillus mius," narat, "dd'apu scramentau deu. Cussu no torrat prus."