Oostfreesk
Low Saxon ("Low German")
Northern (Low) Saxon Variety of Eastern Friesland
---
Listen to this translation narrated with native pronunciation:
Translator: Holger Weigelt
Narrator: Holger Weigelt
Location: Eastern Friesland (Germany)
Language information: Eastern Friesland Low Saxon is one of the varieties of the Low Saxon language, spoken in the German region Eastern Friesland (Ostfriesland). It is one of the dialect groups with Frisian substrates (like Low Saxon of Stellingwerf and Groningen). [Click for more.]
---

[German Spelling] [Weigelt Spelling] [AS Spelling] [Phonetic]
---
De Tuunkruper
De Tuunkruper harr sien Nüst in d' Wagenschüür. Ins wassen de beid Ollen utflogen. Se wullen de Jungen wat to foren kriegen un harren de Lüttjen lievalleen laten.

Achter 'n Sett kummt de Oll weer in Huus.

"Wat is d'r hier geböört?" seggt he, "Well het jo quaads doon, Kinner? Ji bünt ja heel un dall verjaggt!"

"Och, Vader [Vaar]," seggen se dor, "hier kwamm jüst so 'n baldadergen Bellmer langs, de leet d'r so quaad un grieselk van of! De luurt mit sien groot Ogen to uns Nüst in, dat wi uns d'r so leep verfehrden."

"So?" see de Oll, "wor is he dann bleven?"

"He is de Kant angahn!" seggen se.

"Töövt eets!" seggt do de Oll, "de schall ik na! Bedaart jo man, Kinner, de schall 'k wall kriegen."

Dann flüggt he d'r achter to.

Do he um 't Hook to kummt word h' gewahr: dat is 'n Lööw, de dor langs geiht. Man de Tuunkruper maakt sük neet bang. He daalt up de Lööw sien Rügg un fangt an t' schellen: "Wat deist du bi mien Huus un verfehrst mien Kinner?"

De Lööw brannt sük dor heel neet um un geiht sien Padd.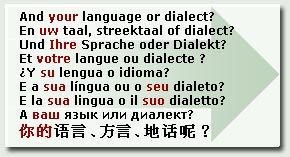 Do schellt 't noch feller, dat drieste Keerlke: "Du hest dor neets ni verloren, dat segg ik di, un wullt du weerkomen, dann schallst 't mol sehn! Van rechtens mag ik 't neet doon," seggt he un tillt sien Beentje umhoog, anners wull 'k di d' Rügg vernelen."

Un sluupsteerts flüggt he weer up sien Nüst an.

"So, Kinner," seggt he, "de hebb ik 't bimeten. De kummt neet weer."