Zealandic
Variety of Kwadendamme, The Netherlands
---
Listen to this version narrated with native pronunciation:
Translator and Narrator: Hans de Vos
Location: Kwadendamme, Zeeland (The Netherlands)
Language information: [Click]

---
't Duumtje
In de aerke zit ter een nist mie duumtjes. Op een keêr bin de ou:we lui aolebei gaè vliege, om eten voe de jonge te gaèn aelen, en de kleintjes bin stik alleêne tuus ebleve.

Nae een stuitje kom de vaoder trug, en ie zei: "Wa gaè ter noe toch om? Wie:n ei dat edae, jongers? Jolder bin glad in paniek!"

"Vaoder," zegge ze, "der kwam ier net een akelig beêst verbie. Die zag ter zò kwaed en zò akelig uut! Die stoeng mie z'n grôte oagen bie ôns in 't nist te kieken, en me wiere der zòvee benauwd van!"

"Zoa," zei de vaoder, "en waèr is ten noe?"

"Gindte kant is ten uut'egae," zegge ze dan.

"Wacht mae," zei de vaoder, "ik za der 's achteran gae. Rustig mae, jongers, ik za n wè kriege!"

En um der achteran.

En net a ten den oek om komt, dan zie ten een leêuw loape, mae 't duumtje is ter glad nie benauwd voe. Ie gaè bie de leêuw op z'n rik zitte, en ie begun tegen zen te roepen: "Wat ei jie bie mien uusje te zoeken," zei ten, "en waèrom zit jie mien guus benauwd te maeken?"

Mae de leêuw doe net of a ten niks oôrt, en ie lop gewoon deur.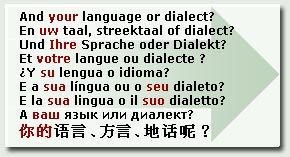 En dan gaè da kleine opneukertje nog vee arder tekeêr. "Jie ei daè niks te zoeken, zegge 'k! En a je 't nog 's doet, dan za je 't gewaere worre!" En sint a ten z'n êne poôtje om'oage doet zei ten: "Ik doe:e 't liever nie, mae dan trap ik je achter an mekare de rik in."

En ie vlieg wee trug naè z'n nist.

"Zoa jongers," zei ten, "die ei z'n lesje eleêrd. Die za nie mì trugkomme."