Norwegian (Dano-Norwegian)
---
Listen to this translation narrated with native pronunciation:
Translator: Helge Kåre Fauskanger
Location: Lille Fauskanger, Kjerrgarden (Norway)
Narrator: Grethe Haugøy (SIGURD), Southeastern Norway
"The text is in the bokmål variety of Norwegian, and my accent is a pretty standard Southeastern variety. For your inquisitive members you may want to include the information that my childhood was spent in the town of Horten in Vestfold county and I have lived the last 20 years in Oslo. The Vestfold accent is a bit subdued in this sound file, as my Vestfold accent is originally an urban version and I have also been influenced by the Oslo regional accent over the years. A true Vestfold accent would have used the form stirra instead of stirret, øyer instead of øyne and skauen instead of skogen, as well as some other forms."
Facilitators: Mike Szelog (USA), Henry Pijffers (Netherlands)
Language information: [Click]

---
Gjerdesmetten
Gjerdesmetten hadde reiret sitt i et hjørne av låven. En gang fløy begge de voksne fuglene ut – de ville finne noe å spise til ungene sine, og lot dem være helt alene.
Etter en stund kom Far Gjerdesmett hjem til reiret igjen.
"Hva har skjedd her?" sier han. "Hvem er det som har gjort dere noe, unger? Dere ser ut som dere har blitt vettskremt, alle sammen!"
"Åh, pappa," sa de, "en stor stygging kom forbi her for bare noen øyeblikk siden. Han var skikkelig skremmende! Han stirret inn i reiret vårt og hadde slike skikkelig digre øyne og skremte oss skikkelig fælt!"
"Ja, jeg skjønner," sa Far Gjerdesmett. "Hvor gikk han hen?"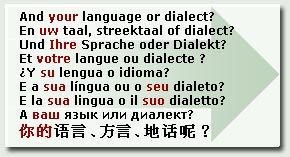 "Jo," sa de, "han gikk den veien – ned dit i skogen!"

"Vent her!" sa Far Gjerdesmett. "Jeg skal følge etter ham! Nå skal dere ikke være redde, unger, jeg skal få tak i ham." Med disse ordene fløy han i vei fra reiret sitt.

Han fløy altså lenger inn i skogen, så rundt en sving, og etter en stund kom han over en løve.

Men gjerdesmetten var ikke det minste skremt. Han landet på ryggen til løven og begynte å skjelle den ut.

"Hva har du med å komme til huset mitt," sier han, "og skremme ungene mine sånn?"

Løven bryr seg slett ikke om fuglen og bare fortsetter å gå.

Det gjør den lille hissigproppen bare enda villere, og han begynner å skjelle ut løven enda verre enn før.

"Nå skal du høre her – du har slett ingenting å gjøre der! Og om du tør å komme tilbake," sier han, "ja, da skal du få se – jeg har ikke lyst til å gjøre det," sier han, og begynner å løfte en av føttene, "men jeg knekker ryggen på deg med foten min på et øyeblikk!"

Da han hadde sagt det, fløy han rett tilbake til reiret sitt.

"Sånn ja, unger," sier han, "jeg lærte den fæle løven en skikkelig lekse. Han tør nok aldri komme hit mer."