Münsterland Low Saxon
---
Listen to this translation narrated with native pronunciation:
Translator and Narrator: Heinrich Becker
Location: Steinfurt, Lower Saxony (Germany)
Language information: This dialect is transitional between North Saxon, Eastphalian and Westphalian.
[Click here for more.]

---

[German Spelling] [Dutch Spelling]
---
De Tuunküörning
De Tuunküörning harr sien Nest in eene olle Remise. Nu wassen de Ollen eenmoal utfluoggen. Se wullen wat to iäten halen füar üöhr Nohloat un hebbt de Kleinen alleen sitten loaten.
Biätken later kam de Olle wier noah Hus.
"Watt wass hier dann loss?" fröggt he, "hebbt wie ju watt doahn, Kinner? Iih sinn ja ganz mucksch!"
"Ach Varer", entgieggenten se, "hier kam een grauten Buttkiärl vöörbi. De söög so bedreigend un grölik uut. Met siene grauten Augen heff he in usse Nest kiekken. Wi hebbt us doarför so bang maakt."
"So," segg de Olle, "woar is he dann bliebben?"
"Jo," seggten se, "doar iss he langs goahn."
"Wocht äs!" seggt de Olle, "ick sall em wuell kriegen!" Un doar flögg he em noah.
As he üm denn Hook kümp, sütt he eenen Löwen, de doar lans geiht.
Denn Tuunküönning wass oaber nich bang. He sett't sick up den Rüggen van den Löwen un fäng an to schnerken. "Watt häss du bi miin Huus te söken?" frögg he, "un mine kleinen Kinner bang te maken!?"
De Löwe kümmert sick nen Driett dorüm un geiht sienen Wegg.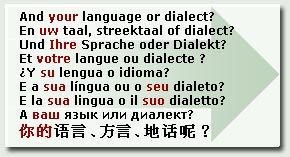 Nu föng he erst richtig an to schnerken, de drieste kleine Kiärl. "Doar häss du nix velorn, segg ick di! Un wenn Du terüg kümmst," seggt he, "kannst Du watt beliärben! Ick will't ja eegentlik nich doan," un böört al een Been in de Höchte, "süss deih ick dienen Rüggen kaputtrampeln!"

Doarup hen flögg he wier terüg noah sien Nest.

"So, Kinners," seggt he, "ick hebb't em utdriäbben! De kümp nich mehr terüg."