Dialect of Newfoundland, Canada
---
Listen to this translation narrated with native pronunciation:
Translation and Narration: Philip Hiscock
Location: St. John's (Ménahqesk), Newfoundland (Oktokomq, Ktaqamk, Ktaqamkuk), Canada
Transcription from recording: Reinhard F. Hahn
Language information: [Click]
---
The Wren
There used to be this wren used to have his nest in the garage. Once the mother and the father birds had both gone off—they were going to get something to eat for their young ones—and they left the little one all alone.
So, after a while father wren comes back home.
"What's happened here, kids," he says, "You all look terrified. Who hurt you?"
"Oh, dad!" they say, "Some big boogeyman came by just now. He looked right fierce. He looked into the nest with his big eyes. He was horrible! That really scared us."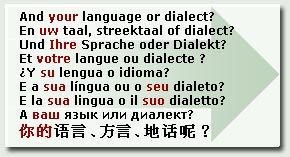 "I see," says Father Wren, "Where did he go?"

"Well," they say, "he went down that way."

"You just wait," says Father Wren, "I'll get after him. Don't you worry now, kids! I'll get him." And with that he flies after him.

When he comes around the bend it's the lion walking along there.

But the wren isn't afraid. He alights on the lion's back, and he starts scolding him. "What right do you have coming to my house," he says, "and terrifying my children?"

The lion pays no mind to this and keeps on walking.

And that makes the little gappy loud-mouth bird get after him even more fiercely. "You have no business being there I tell you! And if you come back," he says, "well, then you'll see. I don't really want to do it," he says and lifts one of his legs, "but I'd break your back with my leg in a second."

And with that he flies back to his nest.

"There you go, children," he says, "I'm after teaching that one a lesson. He won't be back."