Western Australia and "Freo"—
Definitely out of the way but worth considering
By Reinhard F. Hahn, Seattle, USA, ©2007
Western Australia as a Travel Destination—
Add-on or focus?
estern Australia is the largest Australian state in terms of area (being second after Siberia's Sakha Republic as a sub-national entity), and its capital Perth is the geographically most isolated city in the world. In terms of population density (0.79/km), it is second last in Australia before the Northern Territory (0.15/km, compared with 22 in Victoria and 137.53/km in the Australian Capital Territory). In terms of international tourism, however, Western Australia is rather neglected despite decades of promotional efforts. It does not help that in Eastern Australia there is a tradition of viewing Western Australia as the back of beyond and as a cultural wasteland, as an area of little interest and of even less culture. Undoubtedly, the main reason for this neglect is Western Australia's geographical isolation. Although it is situated in the southwestern corner of the state, the Perth area is closer to Jakarta than to Sydney.

People in other parts of Australia often say and write "West Australia." This is unacceptable in the West, even if it is consistent with "South Australia," the official name of the neighboring state. The official and only acceptable version is "West
ern
Australia." But the adjectival form "West Australian" is the preferred one, though "Western Australian" is acceptable. — You sure aren't alone if you're confused now.
Being situated on the Indian Ocean shore, Western Australia began as a separate British colony after weak Dutch and French attempts at exploring and colonizing the area. Even the railway system began as a separate one from that of Australia's east, with rails of a different gauge, so that train carriages must still be fitted with different wheels at the border between Western Australia and South Australia. But ... see? This is fun, isn't it? It ain't no run-of-the-mill stuff. There are lots of adventures and lots of things to explore—and we aren't even only talking about breathtaking landscapes and splendid beaches away from the usual tourist track. There's history, and there's culture—contrary to many people's preconceived ideas.
It is important to consider Western Australia in this light rather than as a negligible appendage to Eastern Australia.
Getting There—
From the east or through the back door?
Flights from Australia's east coast to Western Australia are often more costly than those from Southeast Asia. Western Australia is therefore not a convenient destination for international travelers with severe budget and time constraints that hope to accommodate a visit west with a visit to the usual tourist destinations in Eastern and Central Australia. The large state is too remote and has too much to offer to be thought of as a flying-visit destination, as an afterthought. If it does not serve as a destination in its own right, it might as well be combined with a visit to Bali, Bangkok, Jakarta, Kuala Lumpur or Singapore for example. And if you have been to Eastern Australia before, you might find it more interesting and economical to combine a visit to Western Australia with one to Southeast Asia.
By the way, West Australian time is seven hours ahead of Greenwich Mean Time, being in the same time zone as the Far East (e.g. Beijing, Hong Kong, Tokyo), which is two hours behind the Australian east coast and twelve hours ahead of the US east coast.
Those with the wish and time to include Western Australia in their visit to Australia ought to consider three modes of ground transportation, taking at least three days one way. (It is about 50 hours of driving between Perth and Sydney.)
Driving a motorcar across (at least one way) combines the freedom of movement with access to unforgettable sights of the rugged Southern Ocean coastline and of the outback, including the unforgettable Nullarbor Desert.

Doing the same by "coach" (overland bus) is similar, only with less freedom, though there tends to be a familial atmosphere among the passengers by the end of the trip. It can be a fun trip, even though amenities tend to be on the rustic side.

The Indian-Pacific train service offers by far the most convenient and spectacular ride, though not the cheapest one. It is one of very few fantastic train rides left in the world—with private compartments, showers, good food, and tea or coffee in bed. It's a cruise on wheels with splendid sights of Australia's natural wonders. For many people, this alone is worth a trip to Australia. It's three in one: a train enthusiast's dream come true, an outback safari, and a relaxing cruise on wheel.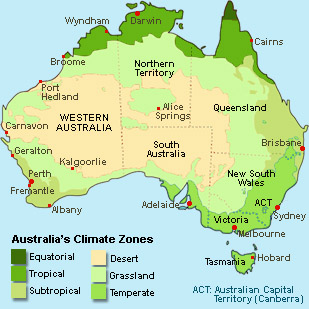 Timing—
"This ain't Kansas anymore."
Remember that we are dealing with Down Under where many a thing seems upside down and back to front to people of the Northern Hemisphere. Water whirls the other way around, and, sporting the Southern Cross, the usually clear starry sky looks totally different. And the seasons are "reversed" also, of course. Add an assortment of climates to the mix, and things start getting even more interesting. This requires particular timing strategies on the part of the visitor.
Your timing depends on your itinerary and interests. As we now know for sure, the seasons are "reversed" from those of the Northern Hemisphere. Bear in mind that Western Australia's north is hot and dry in the "winter" and rainy in the summer, and that in the south it is the other way around.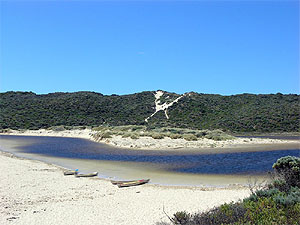 Western Australia still has secluded beaches and coves,
such as this one at Margaret River, south of the Perth area.
In the south, the rainy season (with regular downpours and cool nights) begins in about April or May and usually ends before Christmas, after which time there is no rain at all, and midday temperatures can soar to over 100°F (37°C) in dry air, until the "Fremantle Doctor Wind" cools things down in the afternoon. After a windy period around sunset it cools down considerably. Although the nights are actually balmy taken by themselves, the sudden drop in temperature makes them feel rather cool. So you might have to put on a light jacket. But, hey, you can still lounge around outside, and people do. Summertime is garden party time. (Can you smell the jasmine underneath wafts of lemon-scented eucalyptus?) The climate in the Greater Perth Area is comparable to those of the Mediterranean region and Namibia. Well, if you are from North American, think of it as Arizona with a beach if you can. You are basically dealing with desert climate, though there is a narrow coastal belt with beautiful flora between the ocean and the "bush," and in and around urban centers this has been boosted by flora introduced mostly from Mediterranean Europe and from Southern Africa.
Those with an interest in flora and an eye for natural beauty need to consider taking in the state's springtime wildflower splendor—vast carpets of a dazzling array of weird and wonderful blooms. Areas rich in wildflowers, most of which are unique to the area, can be reached by car or with organized tours from Perth and several towns.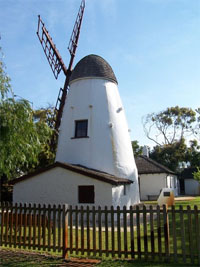 The Old Mill in South Perth
Those that want to experience the spectacular vast Northwest are best advised to consider doing this during the northern dry season and to do so with organized tours or by flying to Broome and renting a car there. (Dry riverbeds can be filled up in a matter of minutes during the rainy season, and it is not uncommon for travelers to get cut off from the outside world.) Population centers are few and far between. Outside mining areas, the natural beauty of this red rocky region with feathery gray-green growth is abundant, as are historic Aboriginal sites. If you want to experience what it feels like to be all alone on earth and to be the first person ever to enter a place (even though you aren't), you'll have plenty of opportunities for that.
The town of Broome is worth a visit in that it began pretty much as a tropical settlement of people from Asia, including Japanese pearl fishers, and it has preserved and expanded its Asian character. It's a wonderful place to enjoy East and Southeast Asian seafood dishes, to stroll through markets and to see the closest thing to camel caravans.
In the summertime, it is particularly pleasant to head south from the Perth area through beach resort towns and the magnificent and unique fern-padded karri forests riddled with ancient caves, many of them archeological sites. Such a tour might end in the historic whaling port Albany where the Indian Ocean and the Southern Ocean meet, or it may continue on east to Esperance and then northward inland to the old mining towns Kalgoorlie and Coolgardie, from there westward back to the Perth area.

The skyline of Perth, Western Australia's capital, can be seen from East Fremantle.
All year round, seafood, lamb and beef are plentiful, relatively affordable and usually of high quality, as are locally grown fruits and vegetables sold directly by market gardeners. "Tree"-ripened West Australian bananas ... "yummy"! The quality of food preparation and presentation in various eateries is high and rising steadily, and there is much ethnic diversity, especially due to large-scale immigration from Mediterranean Europe and from many Asian countries. West Australian beer and wine production is noteworthy. If you are American, try Australian ginger ale and realize what the real stuff is supposed to taste like. And what can be better than a cold can of that stuff on a hot afternoon somewhere on a bench in Perth or Fremantle?
Colonial Western Australia—
Once a remote British penal colony with a Dutch touch
There are numerous colonial sites in the southwest, too many to name them all.
Fremantle's Roundhouse is Western Australia's oldest
surviving building.
By far the most historic place is the port city of Fremantle, affectionately called "Freo," now a de facto part of the greater capital city area, just a short ride from Perth's city center. The downtown area is full of history-rich buildings. You can easily walk to most of them in the downtown area, beginning with a stroll from the Mall by the historic town hall down High Street to the Roundhouse. This area offers much diversion in a casual, relaxed atmosphere, including multiethnic arrays of shops, eateries, pubs and cafés.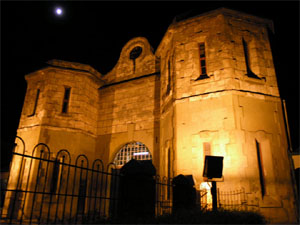 Once one of the British Empire's most notorious convict labor
facilities, the Fremantle Prison is now a museum.
Overlooking Bathers Bay, the Roundhouse is the oldest remaining building in the state, having been built as a colonial jail (locally spelled "gaol") in 1830–1831. Bathers Bay used to be a significant whaling port (another famous one being in Albany at the state's southwestern corner).
Now a public museum, the architecturally interesting Fremantle Prison used to be one of the British Empire's most notorious convict labor facilities. Within easy walking distance from downtown Fremantle, it is found in the sleepy West End area in which many beautiful restored colonial homes can be admired.
From mental health facility of the scary kind to a place of history and
culture— the Fremantle History Museum comes with several ghosts.
Once the "Fremantle Lunatic Asylum," also known as the "Asylum for the Criminally Insane" and now dedicated to local and state history and occasionally serving as a function venue, the Fremantle History Museum is one of the state's most significant restored colonial buildings. It now houses the Fremantle Arts Centre and the Immigration Museum. Don't be surprised if you feel watched or touched while strolling by yourself or listening to a chamber music concert in the courtyard. The place is said to be haunted, and it isn't the only such place in Freo.
The West Australian Maritime Museum and The Shipwreck Gallery make up an impressive maritime archeology museum complex complete with beautifully displayed salvaged cargo and the preserved 17th-century Dutch ship from which it came. Housed in a daringly designed building on Victoria Quay, the New Maritime Museum serves as an extension of the older facility.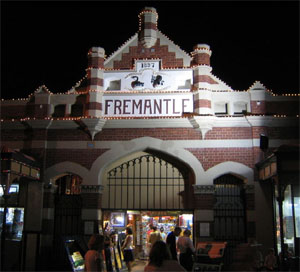 The renovated Fremantle Market entices locals and tourists.
Built in 1897, the Fremantle Market building is now listed by the National Trust and Heritage Council. It was restored and reopened as a market in 1980 and is a favorite among both locals and tourists. Produce and specialty foods tend to be of high quality, and there is always some entertainment and lots of knick-knack.
In Perth, King's Park with its spectacular vistas and excellent botanical garden is a definite must.
Following the Swan River upstream from its sizeable mouth eastward, you hit upon historic agricultural communities and notable wineries with guided tours and wine tasting.
The old Gold Rush towns Kalgoorlie and Coolgardie are situated in the Gold Fields, in the outback east of the Perth area. You can drive there from Perth, take a bus or go by train. They are stops along the Indian-Pacific line. There are numerous historic buildings lining the cities' wide streets, and the look and atmosphere is reminiscent of the old American West.
Clothing—
Going with "light" and "cazh"
West Australians prefer a casual lifestyle and rarely dress up as much as people in most other countries would on special occasions. You are expected to wear a top and shoes (and of course pants or a skirt) in pubs and eateries as well as at indoor parties. Otherwise dress rules are few and far between and are really contrary to common Australian attitudes with their underlying contempt for pretentiousness and authority. It is not uncommon to see people do their grocery shopping in their "bathers."
Casual browsing in casual dress inside the Fremantle Market
This casual atmosphere makes packing for a trip to Western Australia easy. (If you come from South Africa or Namibia you don't need to change a thing; much will remind you of things back home.) Leave heavy and bulky clothing at home, and go with a bunch of light clothing that can be layered. Add a light jacket or cardigan for windy evenings and cool nights. Go with the most breathable fabrics. Cotton is ideal. You can always handwash and airdry some items. The hot sunshine and the afternoon breeze assure that even denim dries in no time. Shorts and light dresses are predominant in the warm season. For special occasions, casual, albeit neat-looking tops and pants are good enough, as are nice but non-flashy dresses. (European visitors are often seen as overdressed, even if it is normal for them.) In this as in other regards, the rules of thumb in Australia are "casual, not sloppy" and "don't be a show-off."
But either bring or upon arrival buy a sun hat (preferably one that doesn't take off with the first gust of wind) or something of that ilk. Sunglasses are very important, for daytime light tends to be very glaring. Most importantly, make sure you apply and frequently reapply a strong sun block (with no less than SPF 45). Australia with its thin ozone layer and with a predominance of people of North European descent has a high skin cancer rate, and baking in the sun is very dangerous, especially if you come from a moderate or cool climate.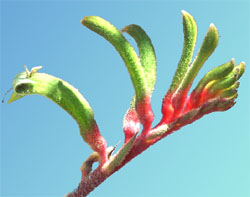 Unique to the area, the kangaroo paw (
Anigozanthos
manglesii
) is Western Australia's state flower.
Souvenirs—
If you must take home stuff
other than memories
Favorite and most accessible West Australian tourist souvenirs include dried wildflower arrangements and seeds, and, as elsewhere in Australia, opals. If you are a wine lover, consider having a case of your special Swan River variety shipped home for you. Or how about some beautifully crafted furniture or sculpture made from silky native wood? Also, Western Australia has its fair share of artists and craftspeople, and there are numerous gems among them. Last but not least, there are Aboriginal arts and crafts worth considering. But if you are a stickler, you should look for them at reputable shops whose staff are willing to provide authenticity papers as well as information about the people that created the works.
---
The author lived in Fremantle for about ten years.

Photographs: Wikimedia Commons
Maps by the author

Back to "Places to See"


Back to Australia
---
Other sites:


Western Australia (Wikipedia)


Western Australia (official site)


Tourism Western Australia


Fremantle (Wikipedia)


Fremantle (official site)


Fremantle Focus (History)


Perth (Wikipedia)


Perth (official site)


Indian-Pacific Train Journey


Australia Travel Guide (Wikitravel)