The Van Harinxma Canal
Text and photographs by Andrys Onsman,
Melbourne, Victoria, Australia, ©2010

f you look at a map of Fryslân one of the many interesting things you notice is that if you want to sail from Makkum to Harlingen (and who doesn't?) you have to sail through the Afsluitdijk. This presents a problem because the Afsluitdijk isn't a dyke at all; it's a dam because technically a dyke separates land from water and a dam separates water from water. At one stage it was going to be dyke because the original idea was to reclaim the whole the Zuider Zee, but minds were changed and a lake created. This means that you have to have a lock because the fresh water of Lake Ysel is higher than the salt water of the Wadden Zee on the other side of the dyke (or dam). A lock is basically a gap that can be closed at either side. Getting through a lock is a simple process: open one side, let the boats in, close the gate, fill the lock with enough water to make it level with the other side, open the other gate and the boat can sail out. The tricky part is getting to the lock when the gate on your side is open. Miss-time it and you can wait for an hour.
There is a steady stream of water traffic from Makkum to Harlingen because Makkum has a very large, very popular international marina and Harlingen is the gateway to the rest of the world. In truth, few boats leave Makkum to sail to Harlingen per se; most traverse the Afsluitdijk to head off into the wide blue yonder. That is one of the attractions of oceans: on a summer's day they are wide, they are blue and they do make you wonder what is over yonder. On the other hand, when it is grey, raining and the horizon line is about a foot in front of your face, I'm very happy to leave yonder where it is.
Makkum as a water sport destination punches way above its weight. It has about three and half permanent residents but that can rise to ten thousand during the season, when the caravan park is bigger than the town, because as well as a harbour, Makkum has a beach with white sand, perfect as a place from which to launch your windsurfer onto the vast expanses of the lake over which whips a constant stream of strong wind. And as a town, it has history. Makkum's Golden Age started in the 16th century and ended roughly in the 18th. With two locks, it was the entry point of choice onto the Zuider Zee. Industrially it developed a ceramic industry that through the agency of Tichelaar continues today.
It wasn't the damming of the sea by the Afsluitdijk that made of a mess of Makkum's mercantile marine industry, the harbour silted up way before then. Although shipbuilding and ceramics remain, the greatest dollar earner is marine tourism. Complementing that is the rebuilding of the maritime ecologies: bird sanctuaries, nature reserves and eco-friendly tourism (aka bike riding and walking) support Makkum's reinvention of itself as a place you can get away from it all — even if you have to do it in the company of thousands of like minded others.
The good ship Astrea, skippered by my appropriately named cousin Henk van der Zee, crewed by his wife Trudy and a maritime novice (me), and carrying another cousin, Martien, as passenger, set off from Makkum to return to its home mooring in Leeuwarden. To do that we not only had to go through the Lorentz lock on the Afsluitdijk and enter the port of Harlingen, we also had to putter along the Van Harinxma Canal. Plus I had a further mission. After a virtual conversation with Lowlands colleague Jacqueline Bungenberg de Jong on the topic of churches seen from sea, I wanted to see whether the spires of Harlingen were as alluring from the water as they were from dry land.
To introduce you to our vessel, here is a snap of the mighty tub. I'm referring to the little tub in the foreground, not the 44 meters long polymer fibre monster behind her. That belongs to an Arabian sheikh and is currently being built at a cost of E2 million per meter. Unsurprisingly, it is registered in the Cayman Islands.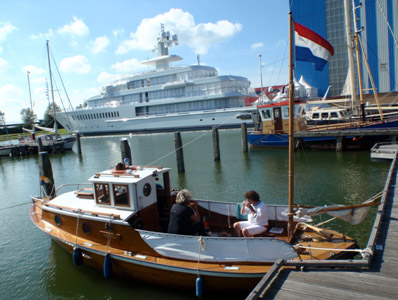 The Astrea on the other hand was built from wood in Norway in the 1930s and has a single diesel engine and jaunty wooden mast, proudly flying the flag of the United Provinces of the Netherlands, and you can have a nice cup of tea in its stern. Or aft. Or whatever the back bit is called.
Cousin Henk knows a thing or two about watercraft, which was just as well as I know nothing. Sheets are things I sleep under, a stern look means someone is not happy with me and pontoon is a card game that can lead to serious family fractures (but that is another story). Locks are what you get trimmed at the hairdresser or try to pick or, if you're Sandy, look for monsters in. (Yes, I know, that's with a "ch" — it's a joke, Joyce!). My only claim to water travel fame is that apart from a September crossing from Capri during weather so wild that the captain lashed himself to the mast, I never get sea sick. That's it: I'm out after that. Nonetheless, blood is thicker than water and I was allowed on board and after disappointing everyone by not falling into the water during embarkation, off we fared.
The passage from Makkum to the Lorentz lock really is a highway: a procession of watercraft of every shape colour and size. Big maxis sailed by a single sailor, large multi-masted ships with dozens of crew and passengers, retirees in nifty sailboats, cabin cruisers with a forest of rods, and a few like us, little vessels with folk who just like to potter about on them, regardless of wind or willows: all of us trying to time the run to the lock so that we wouldn't have to wait too long to go in, drop down and get out on the briny Wadden Zee.
The Afsluitdijk is 30 kilometers long and 90 meters wide. The best thing I know about it is that in 2006, the authorities closed it so that Formula One driver Robert Doornbos could see how fast you can drive on it. That is of course the deepest desire of anyone who has ever driven over it: just put the foot down and leave on the metal until you fly. Or is that just me? Anyway – for the revheads on the LLL, he hit 326 kph. I'm sure my oldest brother was somewhere near that on his motorbike in 1992 (but that is another story).
From the water you get a different perspective of the dyke than when you drive over it.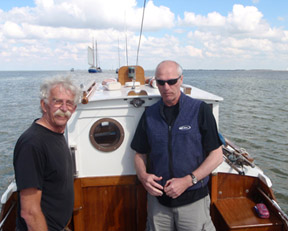 Firstly, it is bloody big, jaw dropping big, as you get near it. I don't know why that surprised me, really: it withstood the floods of 1953, so from sea level it would have to be pretty high. Maybe it was because I'd never seen it from sea level before. Secondly the lock is 90 meters long (obviously) and about 20 meters wide, so it takes a while to fill and to empty, which is why you don't want to get there too late (obviously). Thirdly, you can pack a lot of boats into an area 90 by 20 meters when lockmasters shout at owners to get their craft into exactly the right spot (obviously). On the other side we spilled out onto the aforementioned wide blue yonder.
One of the men in the photo knows what he doing, the other is there simply as ballast. Actually, during low tide you can walk to the Frisian Islands, so the Wadden Sea isn't exactly deep, but the wind and seals and salt on your skin make it a different proposition to the lake. You have the feeling that, given a bigger boat, say something registered in the Cayman Islands, you could sail all the way to Seattle and say hello to Ron. But not us — we were off to Harlingen, which although it looks disappointingly nearby on the map, is still a genuine sea voyage, and I was glad to be there.
As we approached the port I was on the look out for Harlingen's two church spires. Before GPS and such-like, hardy seafarers would set course by them. As usual in Fryslân, two church spires in one town means a history of ecumenical warfare, but their symmetry on the horizon is pleasing to the eye. Imagine the feeling of those in days gone by, returning to their loved ones, dry clothes and a warm meal upon seeing those landmarks. How good would it be?

So, there was the Onsman family's ancestral home from the sea. I'd never known that the two churches formed such an exquisite welcome home portal, like two massive bookends. The church on the left is de Grote Kerk, at least 800 years old and belonging to the Protestants (but you can hire it for function regardless of your religious preference) and the one on the right the Catholic Church of Saint Michael. Pretty good, Jacqueline – I think we are onto something!
Harlingen, Fryslân is one of the oldest cities in Europe, having been granted city status in 1234 — unlike Harlingen, Texas, which was incorporated in 1910. The former is a nice place to wander around in, especially the old harbour area and it retains its bustling seaport flavour. It's a small place, some 15,000 inhabitants — unlike Harlingen Texas, which has about 55,000, and doesn't have a harbour. I love the place and have been there many times, but this time we didn't stop. We were on our way to Leeuwarden.
To get to the Frisian capital from the coast in a boat you have to go via the Van Harinxma Canal, 37.5 kilometers of such benign waterways that I was allowed to steer the ship. It is named after Pieter Albert Vincent van Harinxma thoe Slooten, a controversial figure in recent Frisian history. The last "governor" — actually the Queen's Deputy in the province — he was sacked in 1945 on the advice of the Dutch Resistance. Nowadays opinion is divided whether he was an egocentric megalomaniac who considered Fryslân his own fiefdom or a far-sighted champion of Frisian self-sufficiency. Based upon the infallible science of looking at his photo, I'm convinced he was a mis-understood eccentric.
The canal named after begins or ends in Harlingen and begins or end in the area of Leeuwarden called Zuiderburen, which sort of translates as the southside – like in Chicago. En route it meshes with the Prinses Margriet Canal. To get into it or out of it in Harlingen you have to go through the Tsjerk Hiddes lock. Actually, most of the canal used to be the Harlinger Trekvaart, a waterway along which barges were pulled by horses on the towpath. In 1951, after they had straightened it out a bit and made it a bit deeper, the whole shebang was renamed in honour of our loopy Piet Harinxma.
The towpath brings to mind one of Baukje Wytsma's poems called "By Martena State":
Njonken de paden
bloeie wer de
maarteblomkes,
de wiete ierde rûkt.
In beam wjerspegelet
yn it swarte wetter,
syn tûken rikke
yn ferwûndering
nei himel en ierde.
De wyn azemet
troch triljend gers.
Wy wurde wekker,
ús woartels sûge
nije libbenssoppen
út de ierde, wy libje.
Efter de beammen
driuwe einleaze
wolkenloften oer
de lege greiden.

Alongside the paths
Snowdrops
Bloom again and
The damp soil reeks.
The dark water reflects
The image of a tree,
Branches reaching up
To heaven and down
To earth in wonderment.
The wind breathes
Through trembling grass.
We wake and rise,
Our roots draw new
Draughts of lifeblood
From the soil, we live.
Behind the trees
Endless clouds
Are driven over
The low meadows.
I'd like to say that we cruised past this estate but Martena State was pulled down at the turn of the last century and replaced by what we might euphemistically call a "fantasy castle" whilst we make a cat's bum with our lips in disapproval at such cultural vandalism. We did see many empty farms though. Their fields worked by international conglomerates, the beautiful old buildings are more often than not up for sale. They look great, with their huge barns attached, thatched roofs and green swan uileborden and all but before you rush out to buy one try to imagine yourself doing the maintenance in winter, when the temperature has dropped below freezing and no plumber will return your call.
Nonetheless, on a beautiful late summer's day, from the glassy water of the canal, puttering along at a steady eight knots, it makes you proud to be a local. We pass the river Swette, the last bit of water remaining from what was once the Middelsee (The Middle Sea), the sea that provided the coast along which Leeuwarden was built. It's just about all silted up or dyked, creating It Bildt area up north, and all that's left in the south is this rather insignificant river. That's two disappeared seas that I've seen in one day. One is now a lake and the other is now a river: if it isn't nature cutting you down to size, it's humans.
As the day draws to a close, under Henk's sure guidance the mighty Astrea glides into its home marina on the outskirts of Leeuwarden, where it will be prepared for storage over the winter after some maintenance and a coat of marine varnish. Henk records the journey into his log, as we tidy up whatever needs to be tidied. Then we drive off, literally into the sunset, to a favourite restaurant for a hot meal and a bottle or two of Australian red wine. That sea air doesn't half give you an appetite!
---

Back to "Places to See"


Back to The Netherlands


Back to Europe
---