Berlin
Traces of the Lowlands
By Gary Taylor, Berlin, Germany, ©1 July 2007

trip to Berlin is on most people's agendas when they pay a visit to Germany from abroad. It may be your starting point before going off to explore the rest of the Lowlands. Although Berlin lies outside the current Lowland area, this was not always the case. To get you in the mood for the rest of your Lowland experience there are at least two places which will be of interest to you, both near Alexanderplatz and thus on a typical tour of the town.
Your first place which should really prove that Berlin was once in the Lowlands is the Marienkirche (St. Mary's Church) just in front of the Television Tower in Alexanderplatz (Alexander Square). This beautiful church was founded in the second half of the 13th century and is thus one of the oldest churches in Berlin. There are a number of things to see within the church, but the most interesting for Lowlanders is directly in the lobby before you go into the church. On the walls is a 22m long fresco from the year 1485. The fresco demonstrates what is called a 'Totentanz' or 'Dance of Death' (usually called 'danse macabre' in 'English'). It is unfortunately in a rather poor condition, as it had been whitewashed at some point and only rediscovered in the 1870s. Accompanying the display is a poetic text which is surprisingly written in Low Saxon, showing the importance of the language in the town at this period of time, and also showing which part of the country Berlin really belongs to.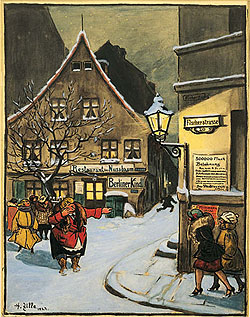 A postcard with a reproduction of Zille's
Nicolaiviertel (Fischerstraße) scenes of 1923
(Courtesy
Wikimedia Commons
)
Your second visit is just a few minutes away in the Nikolaiviertel (Nicholas Quarter). This part of town was 'restored' during the East German period, although as a whole it is not very well done, it is nevertheless worth a visit. In the centre on Propststraße is the Zille Museum. Heinrich Zille (1858–1929) was a cartoonist who quite uniquely captured life in Berlin at the turn of the previous century. The drawings are often accompanied by text given mostly in the Berlin dialect. Looking at the drawings you get a flavour of what life was once like in the town and also experience the heavily Low Saxon influenced dialect of Berlin.
And if you haven't had enough of the Berlin dialect it's worth enjoying a raspberry (Himbeere) or woodruff (Waldmeister) Berliner Weiße beer in your closest corner pub on a warm summer's evening. Here you will almost definitely hear that the Berlin dialect is still very much alive!
---

The original inhabitants of Berlin spoke Polabian, a now extinct West Slavonic language that may have given it its name (from *
b(e)rl
'swamp'). Under Germanic rule the language of Berlin was Brandenburg
Low Saxon
("Low German"), which is still spoken in some neighboring areas. Eventually, German rule and massive immigration from many places put an end to that, and Berliners switched to German. However, their homegrown German dialects have strong Low Saxon influences due to what is known as a "linguistic substrate."

Back to "Places to See"


Back to "Things to Taste"


Back to Germany


Back to Europe
Other sites:


Berlin (official)


Berlin (Wikipedia)


Berlin Travel (Wikitravel)


Berlin Tourism (official)


Berlin sites and World Heritage