The Abbotts
A Downtown Santa Cruz Institution
By Reinhard F. Hahn, Seattle, USA, ©August, 2007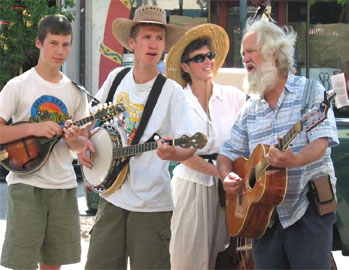 The Abbott Family (from left to right): Kyle, Luke, Leslie and Carl

ou look, you listen, and you know that this ain't no ordinary family," said the onlooker next to me this afternoon, trying to constrain his puppy on a makeshift leash. I couldn't help agreeing with him. But at the same time I knew that what we were witnessing was what before the takeover of the electronic media used to regularly happen in many American homes, certainly in Appalachia.
On each of my frequent visits to Santa Cruz (just south of San José and the San Francisco Bay Area) I try to get in at least one afternoon on and around Pacific Avenue in the heart of the city's small downtown area. Coming from Seattle, I enjoy the relatively laid-back atmosphere.
There's not an afternoon's visit that I don't wait at least long enough for the Abbott Family to show up and perform, even if I can listen for no longer than ten minutes. I have a feeling I am not the only one that gets joy and a moral boost out of it. The family's audiences certainly are socio-economically and ethnically quite diverse.
There's something about family members performing traditional music together. It's heartwarming, plain and simple. With their mere presence the Abbotts seem to preempt remarks from those that are still at the rebellious and cynical stage of life and feel compelled to poopoo anything seemingly wholesome. As far as I am concerned, there doesn't seem to be anything "conformist" about the Abbots. They go out and about doing their thing and making a difference. They are an institution around here. Mama Leslie and Papa Carl sport happy smiles, and sons Kyle and Luke tend to look like they mean it. I love their music. I love their looks. And I love their attitude. Yes, there's a basket for donations, but a sign assures you that all donations go to charity.
The Abbots bring you lovely "mountain music," bluegrass music … most of it both vocal and instrumental, most of it from before the 20th century, and all this in California, far away from the original home of this kind of music and the Appalachian language varieties. Yes, they sing in Appalachian. And a few years ago they didn't even know what "bluegrass music" was! They had an awakening to it at a bluegrass festival in 1997, and they've been hooked on it ever since. I don't know this for a fact, but I would bet my bottom dollar that playing this music, performing it in public and doing so for worthy causes has brought the family members together more closely than they would have been otherwise. ("Families that play together stay together." Does this proverb exist officially? If not, it ought to.) And one of their missions is to inspire other families to discover the joy of music. This is why, among other resources, they've created a songbook with over 230 traditional songs (with a play-along CD), using a playing-by-ear learning method. (Check it out here: www.playingbyear.com)
If you ever visit Santa Cruz, please do hang around on and around Pacific Avenue long enough to watch and listen to the Abbotts! If you can't, well, have a virtual visit with them by checking out the web pages listed below.

www.playingbyear.com/


www.playingbyear.com/songs (Listen!)
---

Back to "Places to See"


Back to "Things to Do"


Back to USA


Back to North America
---