A Taste of the Lowlands
Lunenburg Heath Buckwheat Torte
By Reinhard F. Hahn, Seattle, USA, ©July, 2007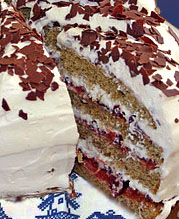 ne of the best-known food specialties of Northern Germany's Lunenburg Heath (Low Saxon Lüünborger Heid' or Lüünborger Heiloh, German Lüneburger Heide) is buckwheat torte. This is a fairly lucious treat, fluffy but substantial enough, with a hint of tang from spreads of cranberry and yoghurt between cake layers that are usually not too sweet; and frequently there are chocolate sprinkles on top. How yummy does this sound?
It would be surprising if you toured the Heath, stopped at a baker's shop (Bäckerei), pastry shop (Konditorei), restaurant or café and didn't find the very thing. In German it's called Buchweizentorte and in Low Saxon Bookwetentort. Outside the Heath you may have a harder time finding it, though many larger North German pastry shops do carry it at least at times.

Buckwheat (
Fagopyrum esculentum
) has nothing to do with male deer nor with wheat (
Triticum spp.
). The "buck" part refers to "beech" (
Old English
bóc
). It is believed that the word "buckwheat" goes back to Middle Dutch
boecweite
, literally "buckwheat." The
Low Saxon
equivalent is
Bookweten
(in which
Book-
rhymes with "broke" and
-weten
rhymes with "Dayton," the
w
sounding like English "v"). Modern
Dutch
has the equivalent
boekweit
,
German
Buchweizen
,
Danish
boghvede
,
Dano-Norwegian
bokhvete
,
Neo-Norwegian
bokkveite
, and
Swedish
bovete
. Unlike its relative
French
(which has
sarassin
),
Walloon
borrowed its word for "buckwheat" from
Flemish
and ended up with
boûkete
.
If you can't tour the Heath or don't feel like hunting down the torte, there's always the option of making it yourself. It isn't even all that difficult to do. As with all local specialties, everyone claims there's only one way of preparing it, and that is their way. If you're able to ignore that kind of purists' babble and are able to follow recipes, by all means try it out and dazzle your family and friends with this exotic delicacy.
Below you'll find my recipe which developed over the years on the basis of various other people's recipes. Just don't go and blame me if your creation isn't a success on the first try. I would deny all responsibility and would blame your incompetence.
This treat is best with coffee, though tea would be fine too.
A decorating tip: use heather and/or juniper sprigs as parts of your centerpiece, for they are the plants of the Heath.
---
Lunenburg Heath Buckwheat Torte
Cake:
4 eggwhites
4 eggyolks
1 tablespoon honey (heath honey would be perfect)
100 grams (3.5 oz) buckwheat flour
25 grams (a bit less than 1 oz) potato starch
2 teaspoons baking powder
4 tablespoons (¼ cup) hot water
Beat eggyolks till frothy. Beat eggwhite. Halfway to stiff consistency, add honey and hot water, keep beating until stiff, then fold under the eggyolk froth. Mix flour, starch and baking powder and gently fold under the egg mixture. Bake in a springform-pan at 190°C (375°F) for 20 minutes, let cool, then slice to create 3 layers. (Some people make 2 layers, others 4.)
Fruit layer:
4 sheets of gelatine (or the equivalent in powdered form), for vegetarians the equivalent amount of agar-agar
200 grams (7 oz) fresh (or frozen and thawed) cranberries
100~150 grams (3~5 oz) yoghurt
sugar (or sweetener) to taste
200 ml (7 fl oz) whipping cream
Mix berries and yoghurt and stir the dissolved gelatine (or agar-agar) into the mixture. Add sugar (or sweetener) to taste. Allow the berry mixture to become somewhat firm. (Shortcut: use store-bought cranberry preserves.) Whip the cream and fold it under the berry mixture. Spread this mixture onto two lower cake layers, then stack the layers.
Icing and topping:
450~500 ml (1 pint) heavy whipping cream
1 teaspoon cornstarch
confectioner's sugar (or sweetener) to taste
chocolate sprinkles or shavings
Whip cream and add cornstarch and sugar (or sweetener) when almost done, then complete whipping to create a fairly stiff consistency (but don't over-whip and end up with butter!). Spread this onto the top and sides of the layer cake. Sprinkle with chocolate and perhaps a few leftover cranberries.
---

Back to "Places to See"


Back to Germany


Back to Europe