Maison Antoine

Place of the best French … uh … Belgian fries
By Roger Thijs, Belgium, ©August, 2008


aison Antoine in Brussel has been found to be the best Belgian fries stand by the Netherlands newspaper Volkskrant, as reported in De Standaard, local pages for Flemish Brabant, August 21, 2008, p. 16 (in Dutch, click here).
Local names for a Belgian fries stand:
in Belgian Dutch: frietkot, frituur

in Belgian French: fritterie, friture
I tested it this very afternoon.

The easiest way to reach Maison Antoine:
Take the central line 1a or 1b of the Brussels Metro to the Schuman station.
(The central line passes through the central railway station, and it has a stop close to the US Embassy at Kunst-Wet Arts-Loi.)

Take the stairs to the exit Justus Lipsius.
(You are now in the very center of the European Quarter.)

Turn to the right and take the Froisssart street.
A ten-minute walk will take you to the small Jourdan Square.
From the northwest corner of Jourdan Square one has a view onto the European Parliament. The north of the place is occupied by the dull façade of Sofitel Hotel. Happily, the three other sides consists mainly of little eateries.
This Sunday afternoon they were clearing the square of the garbage left over from the Sunday morning market.
Even at 3:00 pm there were still two rows queuing at two service windows.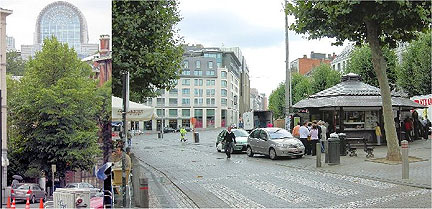 You are free to take your fries to one of outdoor tables of the cafés around.

Real Belgian fries are very different from Mac Donald fries. The potatos are carefully selected and are prepared in two cycles in real beef fat, a first time for cooking the interior, a second time for caramelizing the skin.
I paid € (Euro) 5.20 at the stand:
€2.20 for a large bag of fries

€0.50 for hot Samourai mayonnaise

€2.50 for a satay stick (saté brochette)
and in the café:
Although the fries are very different from the cardboard-like fries you get in restaurants, they are very similar to what you get at the little fries stands all over this country.
Roger Thijs
2008-08-24

All photographs are by Roger Thijs.
---