Kiekeberg Open Air Museum
By Reinhard F. Hahn, Seattle, USA, ©June, 2007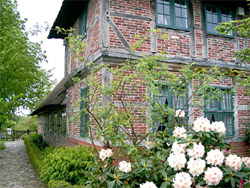 A half-timbered building awaits visitors at the
entrance to the open air museum
(Courtesy
John N.
and
Wikimedia Commons
)

ounded in 1953, the Kiekeberg Open Air Museum (Freilichtmuseum am Kiekeberg) is devoted to 19th-century rural life of the region. It consists of 30 publicly accessible historic buildings scattered over 120,000 square meters (or 30 acres). The buildings are typical of traditional farms of the northern part of the Lunenburg Heath (Low Saxon Lüünborger Heid', German Lüneburger Heide) just south of the German city and state of Hamburg.
For example, visitors may view the authentically furnished interior of a farmhouse in which dwellings, stables and storage are situated under the same roof, as was typical on Saxon-style farms, though these days most of them have been converted. Region-specific farm animals are on display as well, as are traditional household and farming implements.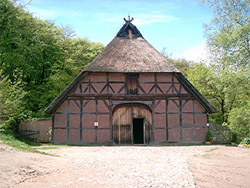 A half-timbered, thatched farmhouse with the
characteristic Old Saxon crossed horse heads
at the gable top
(Courtesy
John N.
and
Wikimedia Commons
)
There are regularly scheduled demonstrations of iron forging, spinning and other traditional crafts. Bread baked on the premises according to old-time recipes is for sale and, along with old-time dishes, such as smoked salt pork baked in bread dough, is also available at adjacent Restaurant am Kiekeberg.
Special events and activities for families or specifically for children are scheduled throughout the year and are listed at the museum's website.
From March until October, the museum is open from 9 a.m. until 5 p.m. Tuesday to Friday, and from 10 a.m. until 6 p.m. on Saturday and Sunday. From November until February, it is open from 10 a.m. until 4 p.m. Tuesday to Sunday.
Admission is currently €6 for adults; it is free for children under 16. Reduced rates are offered on certain days, and combination tickets with admission to other sightseeing spots are offered as well.
Its name meaning something like "lookout hill," Kiekeberg (half Germanized from Low Saxon Kiekebarg) is an elevation in Northern Lower Saxony, just across the border from Southern Hamburg. It is situated in Ehestorf, a part of the community of Rosengarten in the district of Harburg. It can be reached quickly and easily from Hamburg and lies in fairly close proximity of several other sightseeing destinations on the Northern Heath.
---

Northern Germany is devoid of real mountains (with the exception of the Harz Mountains at its southern edge). The area's original language,
Low Saxon
("Low German"), does not inherently distinguish between "hill" and "mountain," using
Barg
for both. Much to the amusement of visitors from mountainous regions, this has been carried over to
German
place name versions of the region, hence the use of
Berg
'mountain' even for slight elevations.
Location and Contact:
Freilichtmuseum am Kiekeberg
Am Kiekeberg 1
D-21224 Rosengarten-Ehestorf
Germany
Tel.: (0 40) 79 01 76-0
Fax: +49 40 7 92 64 64
E-Mail: info@kiekeberg-museum.de
Travel from Hamburg:
By motorcar:
Autobahn 7, Exit Marmstorf
Autobahn 261, Exit Marmstorf-Lürade
(Follow signs after exit.)
By public bus:
HVV 244 from Harburg Central Bus Station (ZOB) or
HVV 340 from Central Bus Station (ZOB) Harburg, Metro train station (S-Bahn) Neugraben or Metro train station (S-Bahn) Neuwiedenthal
---

Back to "Places to See"


Back to Germany


Back to Europe
---
Other sites:


Freilichtmuseum am Kiekeberg (Official, in German)