Berney Arms
By Pat Reynolds, Surrey, England, United Kingdom, ©1 July 2007
erney Arms is a small place in Norfolk, East Anglia, England. Getting there is not difficult, but it is different. The views are quite magnificent, particularly from the top of the windmill.
Firstly: getting there:
You can walk along a footpath from Great Yarmouth, up the river Yare towards Norwich.
Or come by boat on the Yare.
Or you can take a train from Great Yarmouth or Norwich and walk a ¼ mile. It is a 'request halt'—so on the way back you have to flag down the train. This is one of the most remote train stations in the British Isle—over two miles from a road.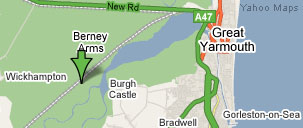 Once there, you can admire (from the outside) Berney Arms Mill, which is a protected building, in the care of English Heritage. Unfortunately, it is not open to the public at the moment (the sails have recently been put back on)—see www.english-heritage.org.uk/server/show/ConProperty.4.
You can get a drink or a meal at the pub—The Berney Arms. It has tables to sit outside and look at the river ...
---

Berney Arms got its name from Thomas Trench Berney, a local landowner, probably via the name of the local pub named after him, The Berney Arms, still an important part of the community. As for Norfolk, now a county in England's East Anglia region (the old eastern region of the Angles), its name comes from
Old English
Norðfolc
"Northern People." The name England, too, refers to the Angles (Old English
Ęngla land
"Land of the Angles") whose ancestors immigrated to Britain from what is now Germany's Schleswig region, specifically from the area called Angeln, which is situated close to today's German-Danish border.

Back to "Places to See"


Back to United Kingdom


Back to Europe
Other sites:


Berney Arms Web


Berney Arms (Wikipedia)


Norfolk Tourism (official)


Norfolk Holiday Accommodation


East Anglia (Wikipedia)